Save water
and you will save your money
High level service either to individuals or to the companies is one of our main goals.
If you cooperate with us, you will always gain the best results for your business.
OUR PARTNERS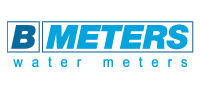 Famous producer of high quality of water meters
Thanks to the experience in over 20 years of water meters manufacturing, the Budai family decided to found the B METERS srl Company in 1991.
Nowadays B Meters is producing the water meters in 3 factories, owned by the family, with a very high automation degree. The overall covered area is 9000 sq.mt. and the open area is more than 10000 sq.mt.
The current yearly production is exceeding 1 million pieces, placing the Company among the most important producers either in Italy and Europe.
A very efficient sales network is allowing B.METERS to be a market leader either in Italy and in Europe: the domestic market is mainly for water-works, industries and the private sector.
Our range of products is comprehensive of velocity meters, single jet and multi jet, both mechanically or magnetically driven, Woltmann meters, Irrigation meters, flow and heat meters.
Our models are well characterized having a different look from the ones from our european and overseas competitors.
Every request from the clients can be satisfied by us, from the planning and designing to the final production of a meter. The company is certified according to the ISO 9001-2000 standards and according to the directive 22/2004/CE modul D (MID), and is working according to the UNI-EN 17025:2005 norms for the testing and calibration activities. The new models are approved according to the directive 22/2004/CE module B (MID).
A long experience combined with the most modern technique for researching, developing and calculating, are the basis for manufacturing meters with an unique technology and design.
B.Meters products:
Water meters for domestic use ( single-jet and multi-jet types)
Water meters for industrial use (woltmann type and tangential type)
heat metering
water meters with pulse output

data reading systems

accessories, connectors for water meters
---
Worldwide famous producer of flowmeters
Founded in 1921 KROHNE offers a wide variety of process measurement instruments.KROHNE has unique expertise when it comes to flow measurement.
And we don't just demonstrate our ability with standard applications but also with applications that are demanding, requiring custom solutions.
Krohne Group has:
15 production facilities in 10 countries
55 exclusive representatives
Krohne group factories are in Germany,Netherlands, France, Russia, Sweden,United Kingdom,Norway, etc.
Headquarters and Management of the KROHNE Group is KROHNE Messtechnik located in Duisburg, Germany
KROHNE PRODUCTS
Electromagnetic flowmeters
Variable area flowmeters
Ultrasonic flowmeters
Mass flowmeters
Vortex flowmeters
Flow controllers
Level measurement
Temperature
Pressure Analysis
Gas & Steam Measurement
Batching systems Communications
You can use KROHNE products in the following industries:
Oil & Gas Industry
Water and Wastewater
Chemical Industry
Power Industry
Pharmaceuticals
Food & Beverage Industry
Pulp & Paper Industry
HVAC Industry
Iron,Steel & Metal
Minerals & Mining Miscellaneous
For over 80 years, KROHNE has built up the reputation of being a major player in the field of flow and level measurement technology.
KROHNE, presenting itself to the market as the level and flow company, is not only world leader in the field of variable area meters, but also has an excellent position with the world's best in electromagnetic flow metering.
Taking these flowmeters to market in the early 1950's, KROHNE created a solid basis to become one of the leading company in the field of level and flow instrumentation.
KROHNE has grown to become an internationally acknowledged leader with companies and representatives in over 59 countries.
KROHNE by philosophy dedicates extensive means and time to research and development, enabling the company to constantly surprise the market with new products. Being innovative does not only mean constant improvement of products, but also of cost-effectiveness. In this way KROHNE can easily serve the customer's changing wishes, while offering tailor-made solutions.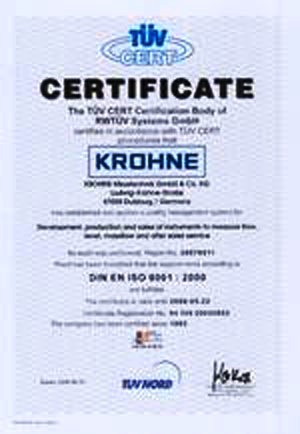 KROHNE offers a very wide range of products to measure both water and other liquids and gasses in diverse industries. KROHNE has a good reputation in the water market, the (petro-)chemical industry and the pharmaceutical industry as well as the food and beverages industry, especially in the field of flow measurement. KROHNE distinguishes 4 different groups in its flow metering range: variable area flowmeters, electromagnetic flowmeters, mass flowmeters and ultrasonic flowmeters. In addition, the company has a broad offering of level meters. KROHNE's electromagnetic flowmeters are applied mainly to measure water flow in the drinking water and waste water industry. Ultrasonic flowmeters are also applied here, but are especially suitable for measuring non-conductive liquids, such as oil and other hydrocarbons.
Best quality.
When it comes to quality KROHNE is proud to state that it delivers the best measuring instruments in the field. For instance, products that are buried underground, can function trouble-free for 30 years and more, because of special coating and welded seams. Another example is the 2-wire electromagnetic flowmeter that easily saves 800 euro in installation costs.
KROHNE offers its range of electromagnetic flowmeter in a very wide measurement range, for many different flow velocities.
KROHNE even delivers flowmeters with a diameter as small as 3 mm.
This small diameter can be applied in the beverage industry for bottle-filling. But very large meters, with a diameter of over 3 meters are not an exception either. These meters are mainly used to measure drinking water.
NEW PRODUCTS
New models are equipped with remote data collection system.
This new system of data transfer allows to get the readings of water meter from distance.
The main advantages of the system are:
Discovery of any manipulation done by the subscriber
Time saving for data collection
Data collection without entering the apartment
Completeness in exact data collection